Here is some questionably helpful information about using Neurotic Stix Pro.
How to Create Stix
You can either create your custom stix from the app, or from within Messages. Either method will add custom stix to your library.
Create Stix From the App
From the Neurotic Stix Pro app, select the "Custom Stix" tab and pick your stix style: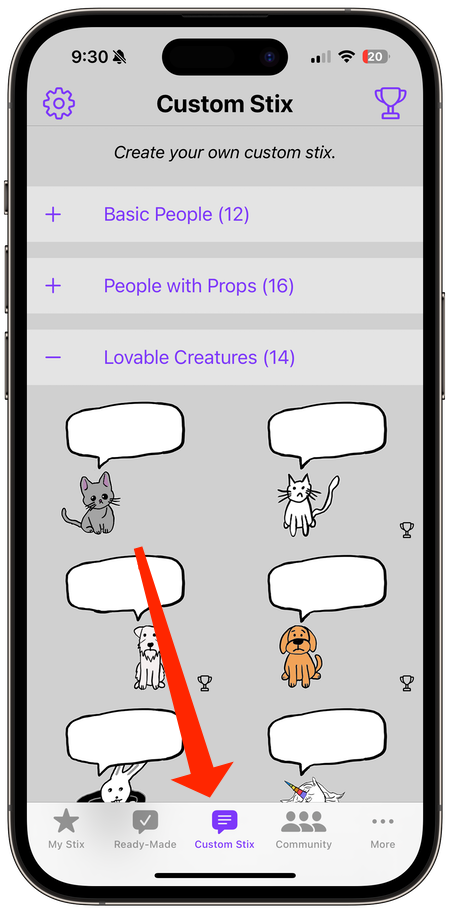 Then add your caption: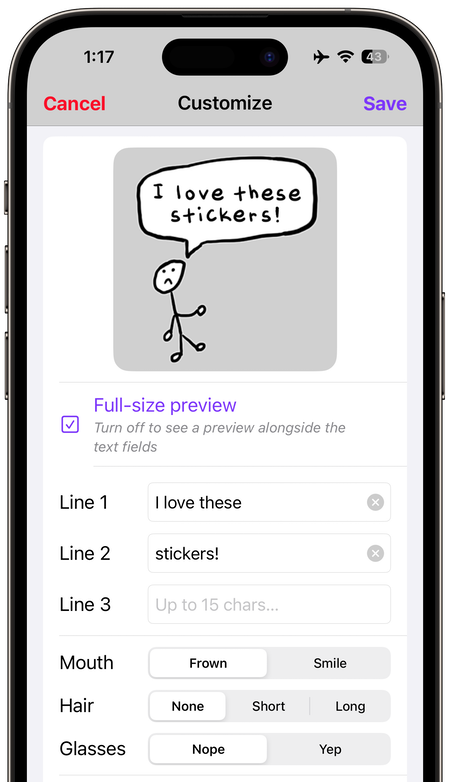 Create Stix From Messages
From the Messages app, select the Neurotic Stix pro sticker pack and then tap "Create Your Own Stix".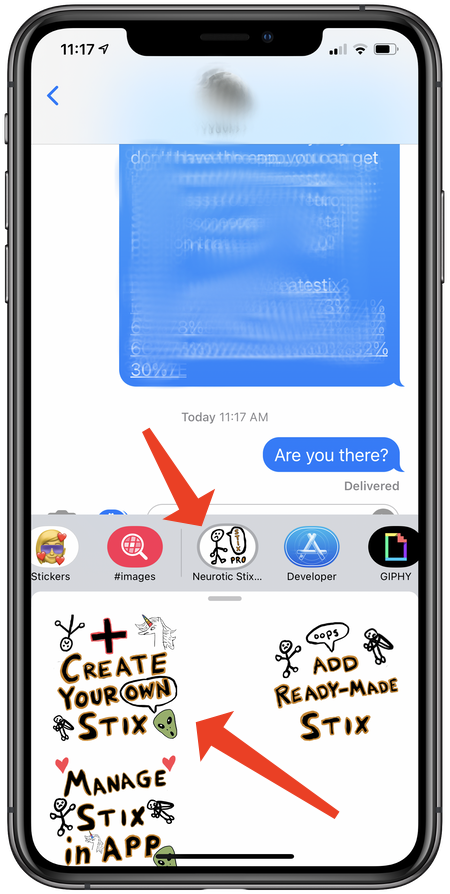 Select your stix style:
And then add your caption:
How to Add Ready-Made Stix
For lazy folks, I've created over 30 "ready-made" stix that you can use without requiring any creativity on your part whatsoever. Just tap on your favorite ready-made stix and they'll get added to your library… Pretty cool, I guess…
From the app, tap on the "Ready-Made Stix" tab:
Or, from within Messages, tap the "Add Ready-Made Stix" button: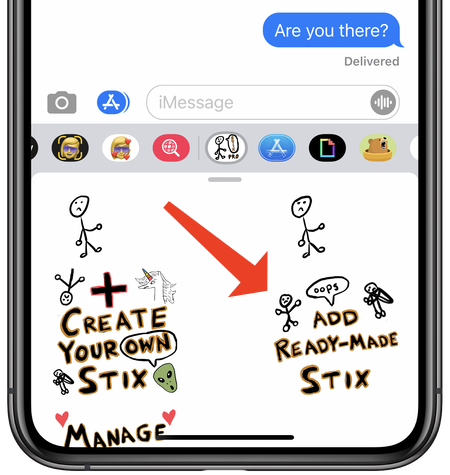 Hope you like my creations, which are filled with all of my low-self-esteem love.
How to Use Stix in Messages
The simplest way (maybe???) to use stix is with the sticker pack from the Messages app:
NOTE: The stix you create with the app and the stix you create with the sticker pack are part of the same library and you can use them from either place.
How to Share Stix
You can share the stix in many different ways (beyond just from within Messages). For instance, you can post your creations on Facebook, Twitter, Instagram, and in an email. Start by tapping the stix from the "My Stix" tab inside the Neurotic Stix Pro app: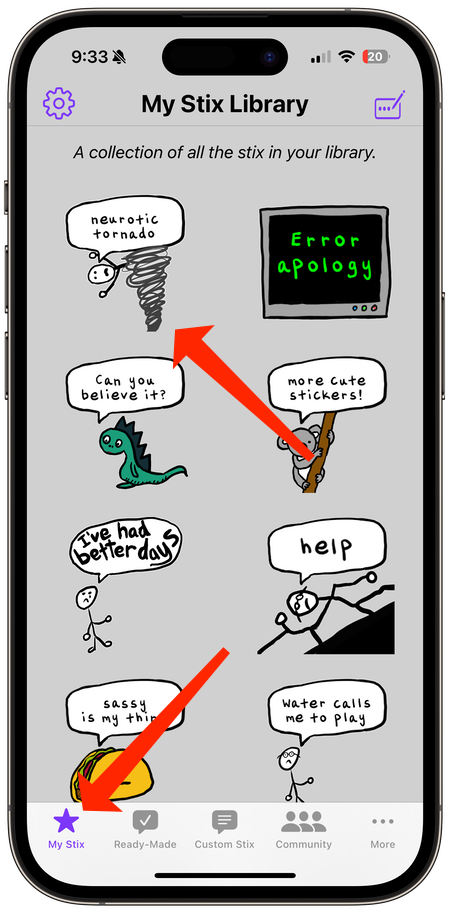 You have a few choices for how you can share the stix.
You can use it in Messages, share it as a PNG or an animated GIF. (Keep in mind when sharing a GIF that some social media sites don't animate GIFs when you upload them. They'll still show the image—they just won't animate.) You can even send it as a link to another Neurotic Stix user so they can add it to their Neurotic Stix library just by clicking a link.
If you share the sticker as a PNG or a GIF, the "share sheet" appears.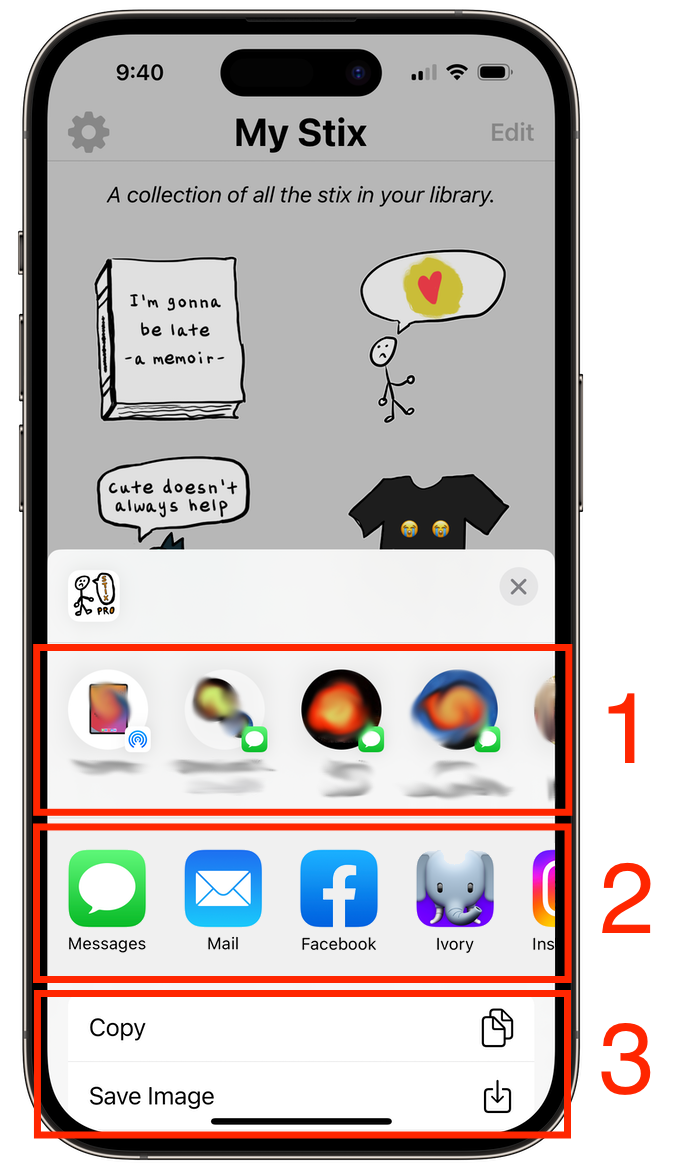 This screen looks different depending on what apps you have installed, but in general, the first section (1) is the "quick-share panel" and has some quick ways to share the sticker based on your recent activity.
The second section (2) contains other apps you can send this sticker to.
This is where you'll see your social media apps, email, and a bunch of other things. This is a great way to create a post in Facebook, Twitter, Instagram, or to create a new email.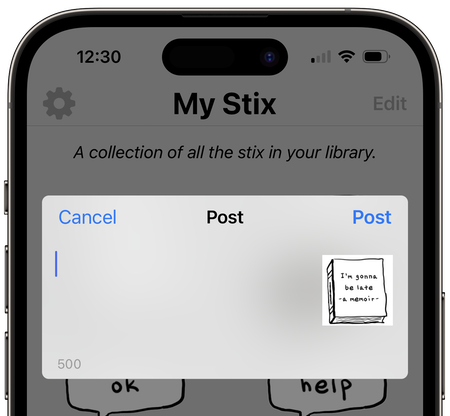 This row (2) is configurable so if you don't see what you want, scroll all the way to the right and configure it manually.
NOTE: The stuff in the second row typically only allows you to create a new thing (like a new comment or post or email), and doesn't let you reply to a thing. If you want to reply to an existing comment or email, continue reading (about Copy and Save Image)…
The bottom section (3) contains a bunch of other useful actions.

For instance, you can select Copy to copy the stix to the clipboard or use Save Image to get the stix into your photo library.
Copy
Use Copy in order to Paste the sticker as a reply to an existing comment thread on Facebook or Instagram. Tap inside a text field (that accepts images) and a popup menu with Paste appears. (If the menu doesn't appear, try tapping in the text field a second time.)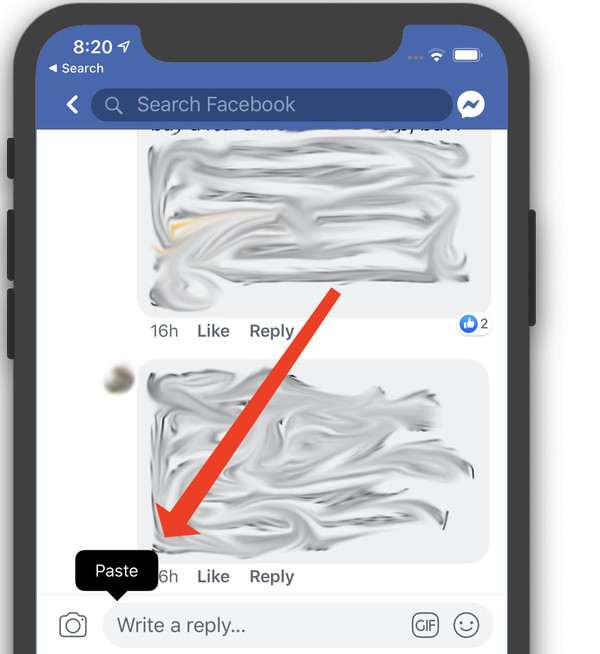 Save Image
Use Save Image to save the image to your photo library. Now you can get to the stix just like how you'd access any of your other photos.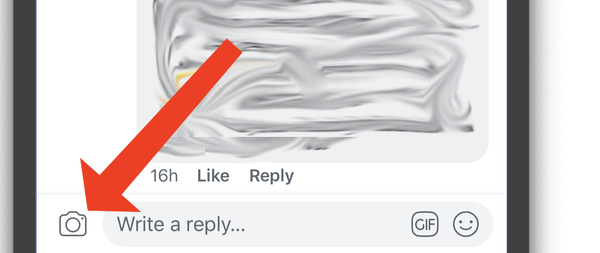 How to Edit Stix
If you want to edit any of your existing stix, go to the "My Stix" tab and tap the "Edit" button.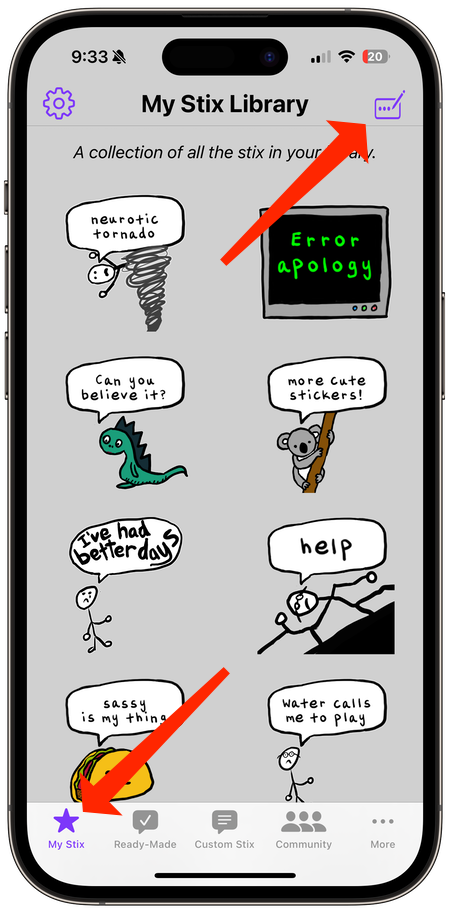 From here you can edit your stix library.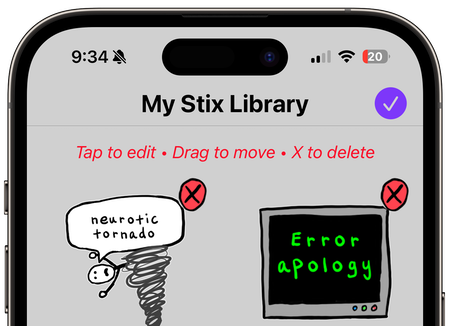 To rearrange your stix, tap & hold one of them and then drag it around.
To delete a stix, tap the red X beside a stix.
To edit the contents of an existing stix, tap the stix you want to edit. Once you've updated the stix, tap the "Update" button to save your changes.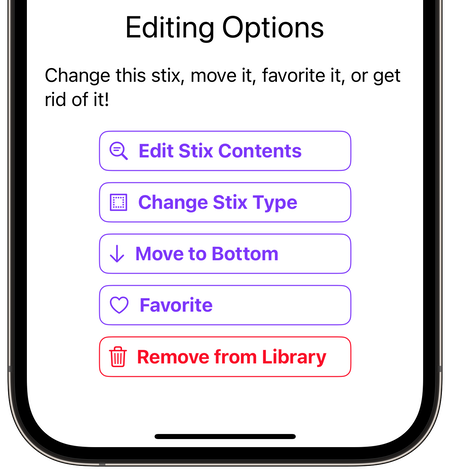 How to Use the Widgets
To add a widget, enter jiggle mode just as you would to move your apps around the home screen. Tap and hold anywhere on the screen. When the apps start jiggling, tap the plus icon at the top of the screen.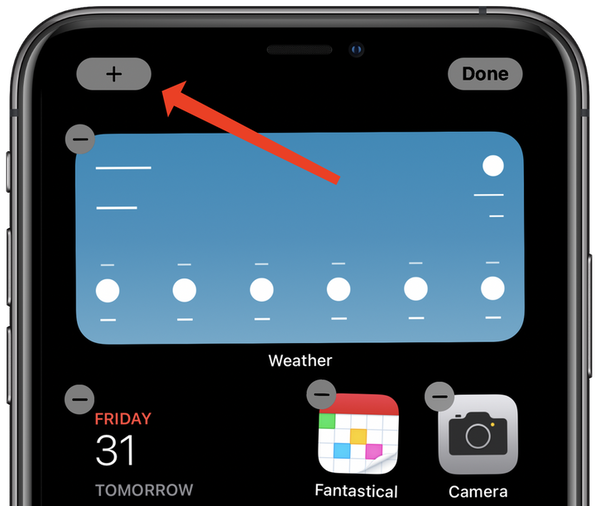 Select Neurotic Stix from the list of widgets.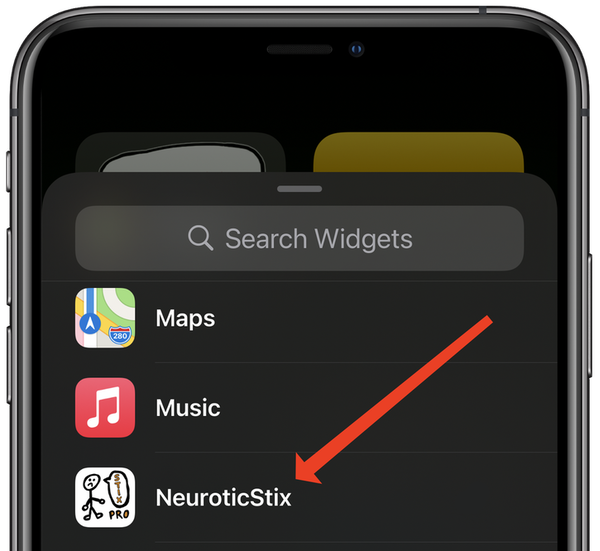 You can pick from several different widget types:

Random Stix: Randomly pick a stix from your library. You can configure this widget to change hourly, daily, or several times a day.
Community Stix: Displays a stix shared by the developer of this app. You can configure the mood of this widget: optimist, pessimist, weird, or random. Changes daily. Once placed on your home screen, tap the widget to have the option to add the stix-of-the-day to your library! [Pro users only]
Stix with Date: Shows the current date on a stix. You can configure which stix shows the date.
Favorite Stix: Shows your favorite stix in your library. You can configure it to show a random favorite, a specific favorite, your first (aka newest) stix, or your last stix.
Place your preferred widget wherever you want on your home screen.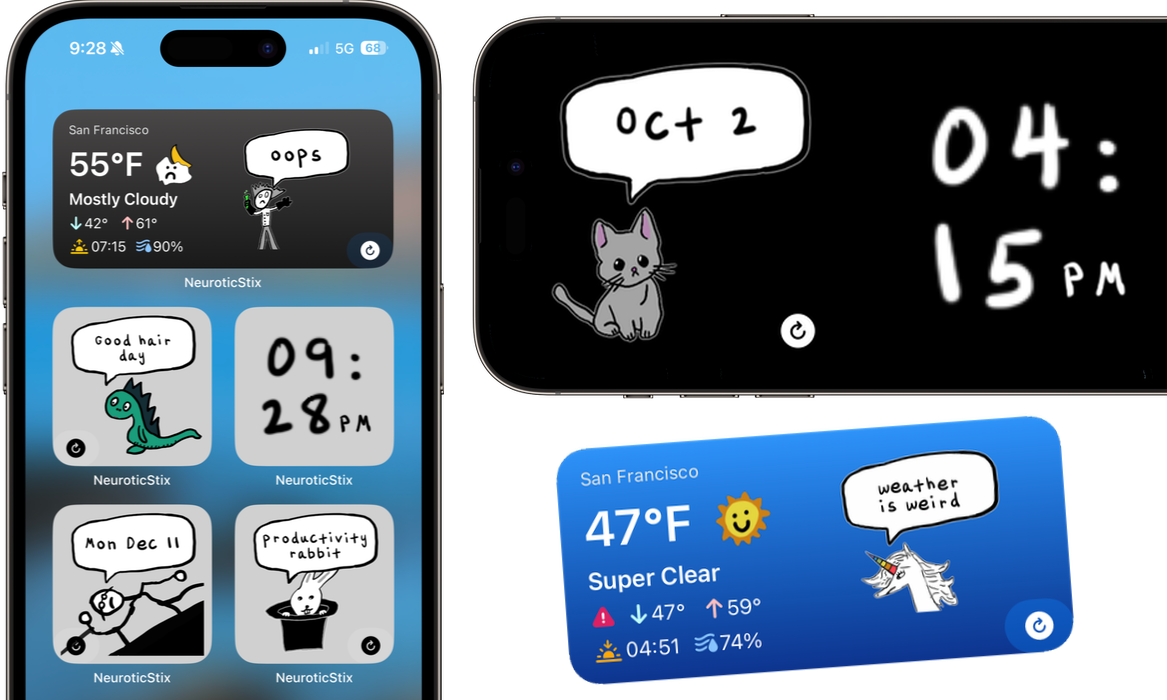 If you want to configure or fine-tune the widget, go back into jiggle mode and tap the widget. Select "Edit Widget".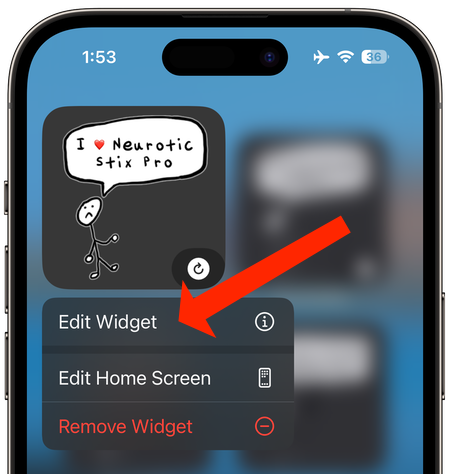 From here, you can configure the widget. Each widget type has a slightly different configuration screen.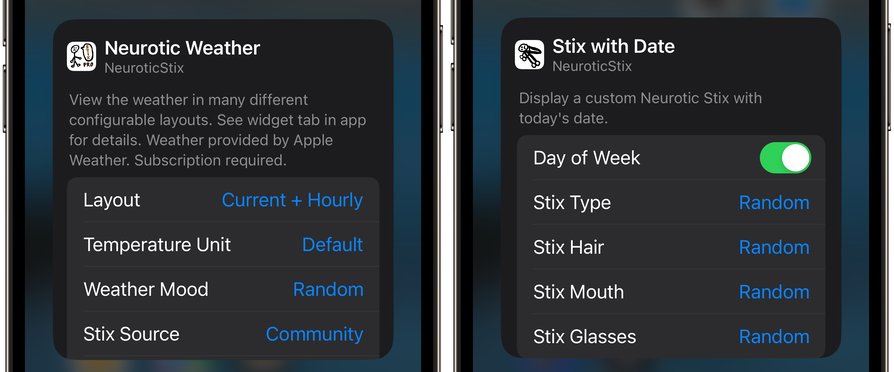 Can't decide which widget to use? Use more than one!
PRO TIP When Using the Favorite Widget
The Favorite Widget allows you to show your favorite stix. By default, it randomly shows a different favorite stix each day (if you have more than one). However, when you edit the widget, you can use the "Fav Hint" field to specifically choose any one of the stix that you've marked as a favorite.
Once you select a specific favorite, that widget always shows that favorite. Even if you unfavorite or delete the stix in your library, that widget continues to show the same stix until you re-edit the widget and change the "Fav Hint" field. This lets you program widgets in specific spots in specific ways. For instance, I have one home page dedicated just to creative apps, and I have a "Create!" stix (in a Favorite Widget) displayed on that page. Once I programmed this widget, I deleted the stix from my library…
How to Mark a Favorite
Your favorite stix can display on your widget if you've added a Favorite Widget to your home screen.
To select a favorite, go to the Neurotic Stix Pro app and tap on any of the stix in your library. When the "Sharing Stix" menu appears, select "Favorite".
You'll know which stix are your favorites because they'll have a heart at the bottom left.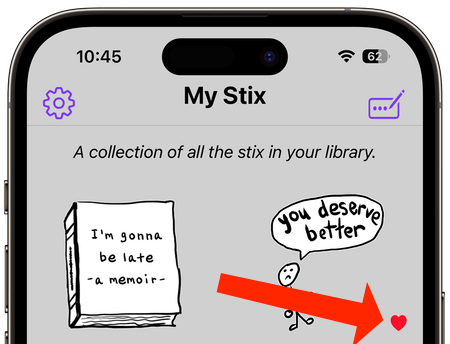 To unfavorite a stix (not that you'd ever want to do that to your precious stix), tap the stix again and select "Unfavorite".
(BTW, check out the pro tip for how to customize the favorite widget.)
What's a Sticker Pack?
Sticker packs are those mini-apps that you can use from within the Messages app to send people stickers. Neurotic Stix Pro automatically provides you with a sticker pack that contains all the stix in your library.
Need more help on how to use iOS Stickers? Check out this YouTube video from MacRumors. It's a little out of date, but should still give you the basic idea in under 90 seconds…
Troubleshooting
Messages sticker pack shows a blank screen!
In some cases, just after you update the app from the App Store, the Neurotic Stix Pro sticker pack shows a blank screen in Messages.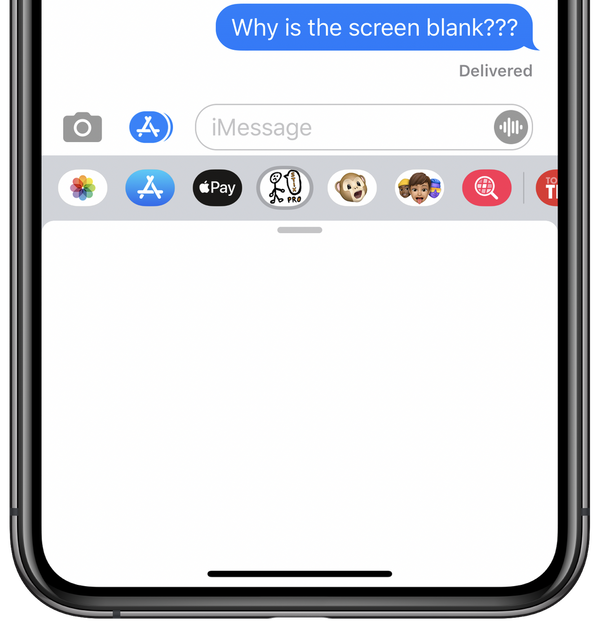 This is a bug with Apple's Messages app and I've filed a bug with Apple on this issue (FB7568682). Fortunately, there's an easy workaround. You have to force close the Messages app.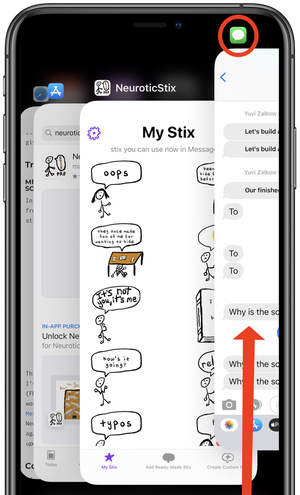 When you relaunch Messages, the Neurotic Stix Pro sticker pack is happy again and all your precious neurotic stickers are back. This behavior only occurs after an app update and only needs to be corrected one time.
My widget went blank!
It's possible that your widget will turn blank if there's been a major app update that has affected the widget configuration.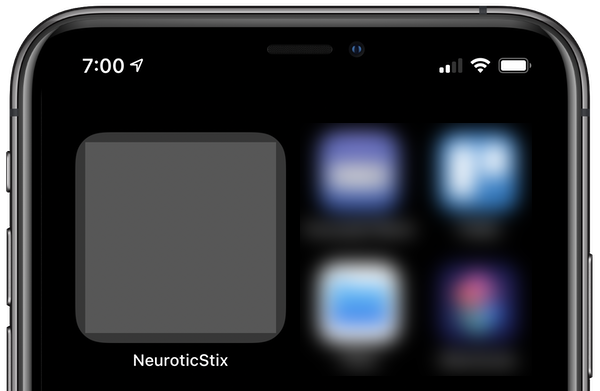 In order to solve this problem, remove the widget and add it back to the home screen.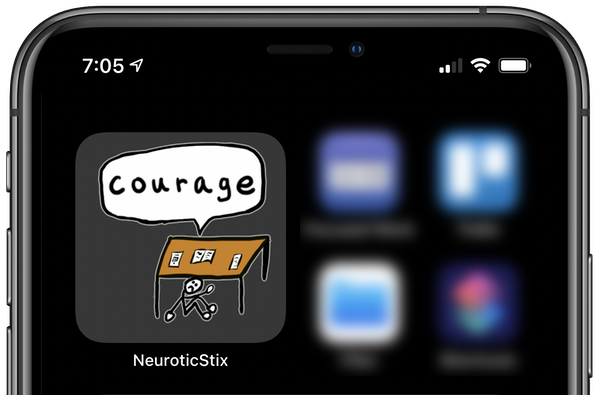 Need help removing a widget? Check out these instructions from How-To Geek: How to Add and Remove Widgets from the Home Screen on iPhone.
If the widgets are still blank, try restarting your device. That usually solves widget issues.
Contact
If you actually want to contact the neurotic developer, use this half-baked form.